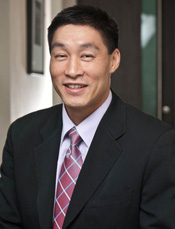 MBBS (S'pore) Bachelor of Medicine and Bachelor of Surgery, National University of Singapore
FRCOG (UK) Fellow of the Royal College of Obstetricians and Gynaecologists, London
MMed O&G (S'pore) Masters of Medicine in Obstetrics and Gynaecology, National University of Singapore
MRANZCOG (Aust-NZ) Member of the Royal Australia-New Zealand College of Obstetricians and Gynaecologists
FAMS (S'pore) Fellow of the Academy of Medicine, Singapore
Anthony is the medical director of ASC Clinic for Women Pte Ltd at Gleneagles Medical Centre, Singapore. He has more than 15 years of institutional practice and was the first Director of Minimally Invasive Surgery Centre, KK Women's & Children's Hospital, the largest tertiary referral hospital in Singapore.
Anthony was awarded the Singapore Government Scholarship for Advanced Laparoscopic Surgery in Sydney, Australia where he spent a year mastering the finer aspects of Advanced Endometriosis Surgery and Pelvic Floor Reconstruction. As Director of Minimally Invasive Surgery Centre, he spearheaded the KK Laparoscopic Fellowship Training Program, and established the KK Endometriosis Clinic. His passion for teaching Advanced Laparoscopy attracted specialists from Malaysia,Thailand, Indonesia, Philippines and the region to train with him. He was awarded Outstanding Clinical Teacher in 2007 and appointed Visiting Professor for Laparoscopy to University of Philippines in 2009.
Anthony is the first gynaecologist in Singapore to perform Single Incision Laparoscopy for Hysterectomy and Myomectomy. He is frequently invited to lecture on and demonstrate Single Incision Laparoscopy overseas. As a result, he performed the first Single Incision Laparoscopic Hysterectomy in Indonesia, Philippines and Vietnam.
Apart from laparoscopy, Anthony also consults on general women's conditions like menstruation irregularities, infertility and menopausal adjustments. He still enjoys guiding mothers through their pregnancy and finds the birth of a newborn an ultimate joy. Having two beautiful kids of his own, he has learnt the art of putting not one but two bawling babies to sleep; and the finer points of changing diapers at 3am half asleep.
To all the sleep-deprived mothers, he would say "The nights are long but the years are short – enjoy them while you can"
Career Highlights
• First Director of Minimally Invasive Surgery Centre, KK Women's & Children's Hospital
• First gynaecologist in Singapore to perform Single Incision Laparoscopic Hysterectomy and Myomectomy
• Invited to demonstrate the first Single Incision Laparoscopic Hysterectomy in Philippines, Indonesia and Vietnam
• Among the few gynaecologist in Asia to have performed more than 200 cases of Single Incision Laparoscopic Surgery
• KK Hospital Outstanding Clinical Teacher Award for training gynaecologist in Advanced Laparoscopy
• Excellent Service Awards and Letters of Commendation in consecutive years from 2002 – 2012
• Awarded Marquis Who's Who in the World for Medicine 2011